Macabre (Canada)
From ZineWiki
Jump to navigation
Jump to search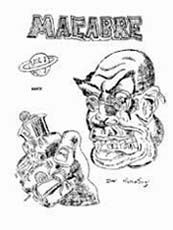 Macabre was a zine published in 1948 by Don Hutchison and Jack Doherty of Toronto, Ontario, Canada.
Both editors were members of the fan group "The Derelicts", associated with the science fiction fanzine Canadian Fandom.
Macabre was a mimeographed and stapled publication. Issue one appeared in March 1948 and was 24 pages, featuring articles by Forrest J. Ackerman (Voice of the Imagi-Nation) and Joe Kennedy (Vampire) and "Departments" by the editors Hutchison and Doherty, as well as a column called "Hodgepodge" by Leslie Croutch, and a column by William D. Grant. Illustrations are by William "Bill" Rotsler and the editors.
Issue two came out in June 1948 featuring a blue cover, and was 36 pages. Included were articles by David H. Keller and Joe Shaumburger, fiction by Art Rapp (Spacewarp), a puzzle by Redd Boggs (Sky Hook), and "Departments and Features" by the editors and Leslie Croutch. Also included are film reviews by Bill Grant, and a letters column and illustrations by the editors.
External Links