Knightbeat
From ZineWiki
Jump to navigation
Jump to search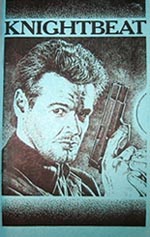 Knightbeat is a fanzine edited by Barbara Fister-Liltz, and published by Special Services Unlimited.
Published in Illinois, U.S.A. in the 1990s, Knightbeat is dedicated to the Canadian television series Forever Knight. Knightbeat featured short fan fiction stories, poetry, and art work.
Knightbeat was published from 1993 till 1999, with 13 issues appearing during that time
Contributors of writing include Sandy Adams, Denyse M. Bridger, Bettie J. Brown, Calliope, Lisa Clevenger, Eileen Foreman, Jean Graham, Teresa Guinn-Garcia, Pam Jensen, Robert McAlister, Winifred M. McBeth, Jeanne McClure, Lucidscreamer, Rebecca Morris, Natassia Orrison, Cyndi Bayless Overstreet, Nancy Hope Parry, Christine Patsos, Donna Redden, M.C. Schisler, Pat Sgroi, Jacqueline Taero, Mary Jane Tripps, Gillian Truscott, K.C. Turner, Sheila Turner, Wolfe=Heart, and L.L. Wright.
Contributor of Interior artwork was Jeanne McClure.
Cover art work was by Frank Liltz.