Juanita Coulson
From ZineWiki
Jump to navigation
Jump to search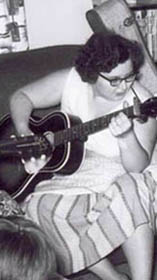 Juanita Coulson is a zine editor, fan artist, writer, and musician.
Juanita Coulson is best known for her science fiction fanzine Yandro, which began life in 1953 as the organ of the Eastern Indiana Science Fiction Association, originally called EISFA and edited by Juanita Wellons (before becoming Juanita Coulson) and Beverly Amers (later Beverly DeWeese). Juanita married Robert "Buck" Coulson in 1953, and Buck began doing book reviews for the zine. Beverly Amers left Yandro, and Buck Couslon stepped in as co-editor. By the late 1950s the name had been changed to Yandro, derived from an old folk song in a Manly Wade Wellman story. It was published till 1985, with 259 issues released. The last issue was not distributed till 1991.
Yandro won the Hugo Award for Best Fanzine in 1965. It was nominated every year from 1958 to 1967.
In 1968, Juanita published a new title co-edited with Kay Anderson. ST-Phile was the second Star Trek fanzine ever published, appearing while the original television series was first being broadcast. Two issues appeared in 1968. Due to popular demand, it was been reprinted several times since the original publication, the last reprinting occurring in the 1980s.
Juanita Coulson was active as a fan artist during the 1950s, 1960s, and 1970s and contributed illustrations to various fanzines, as well as writing articles. Her first published book, Crisis on Cheiron, appeared in 1967, and she has written the series Children of the Stars, among many other titles.
She is also a musician who became increasingly involved in the 'Filk' music scene. She was inducted into the Filk Hall of Fame in 1996.
Books
Crisis on Cheiron (1967)
The Singing Stones (1968)
Door into Terror (1972)
The Secret of Seven Oaks (1972)
Stone of Blood (1975)
Unto the Last Generation (1975)
Space Trap (1976)
Fear Stalks the Bayou (1976)
Dark Priestess (1977)
The Web of Wizardry (Krantin Book 1) (1978)
Fire of the Andes (1979)
The Death God's Citadel (Krantin Book 2) (1980)
Children of the Stars series:
Tomorrow's Heritage (Book 1) (1981)
Outward Bound (Book 2) (1982)
Legacy of Earth (Book 3) (1989)
The Past of Forever (Book 4) (1989)
Star Sister (1990)
Shadow over Scorpio (2004)
Zines
Contributions