Jouissance
From ZineWiki
Jump to navigation
Jump to search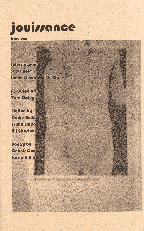 Jouissance is an ongoing San Francisco/Oakland, California, U.S.A.-based art, music and literary 'zine started in 2005 by Aaron Nielsen and Jillian Sutherlin. The content of Jouissance can be described as transgressive, post-modern and sometimes queer.
Issues
Issue number one released on Sept. 24th 2005
Interviews with Xiu Xiu frontman Jamie Stewart, Scott Heim author of Mysterious Skin and Oakland based sculptor Tara Daly. Issue one also included fiction and poetry by Dodie Bellamy,Dennis Cooper, Jill Ghostcar, Kevin Killian and Trinie Dalton, editor of Werewolf Express zine.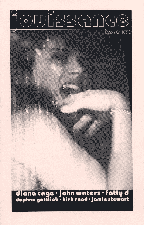 Issue number two released on July 26th 2006
Interviews with Diana Cage author of Box Lunch: The Layperon's Guide to Cunnilingus, filmmaker John Waters and online erotic muse Fatty D. Issue two also included fiction and poetry by Daphne Gottlieb,Kirk Read and Jamie Stewart.
External Link