John Porcellino
From ZineWiki
Jump to navigation
Jump to search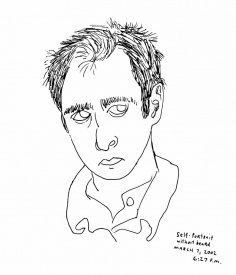 John Porcellino is the creator of King-Cat Comics and Stories (1989-Present).
Porcellino was trained as a painter. In the late-1980's, he adopted a deliberately "naive" style in hopes of making his artwork more accessible.
From 1992-2000, Porcellino ran the Spit and a Half zines and comics distro. His Spit and a Half record label released vinyl and CDs by The Felt Pilotes and The Cannanes, of which zinester David Nichols was a member. In 2010 he began once again distributing zines and comics under the Spit and a Half name.
Porcellino has collaborated with a number of zinesters and underground cartoonists, including Zak Sally, Mr. Mike, Lisa Carver, Joe Chiappetta, Missy Kulik, and Delaine Derry Green.
The flipbook Silly-Cat was a 32 page comic featuring previously unreleased strips by John Porcellino and Joe Chiappetta (Silly Daddy).
Porcellino currently lives in South Beloit, IL.
Zines and Comics
Books and Collections
King-Cat Nummer Eins (1998, Reprodukt) -- In German
The King-Cat Collection (1998, BuLB Comix) -- Swiss publication, written in French
Perfect Example (2000, Highwater Books; 2005, Drawn and Quarterly)
Diary of a Mosquito Abatement Man (2005, La Mano 21)
Moon Lake Trails (2006, Ego Comme X) -- In French
King-Cat Classix (2007, Drawn and Quarterly)
Thoreau at Walden (2008, Hyperion)
Map of My Heart (2009, Drawn and Quarterly)
External Links