Jeet
From ZineWiki
Jump to navigation
Jump to search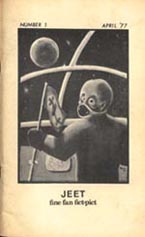 Jeet is a science fantasy and weird fiction fanzine by Ken Hahn.
Subtitled "Fine Fan Fict-Pict", Jeet was published in Auburn, New York, U.S.A. in the 1970s.
The first issue of Jeet appeared in April 1977 and included a novelette by Brad Bronson and stories by John DiPrete (Black Lite), A. B. Clingan (The Diversifier), Ken Hahn, Gordon Linzner (Space and Time), A.K. Molnar, and John Thiel. Also included was a story anonymously written as 'Birdwhanger Cord'. This issue was 60 pages.
Artwork was contributed by Gene Day (Dark Fantasy).
Issue two was released in Summer 1977, included contributions from Brad Bronson, Mark Jacobs (Astral Dimensions), Stephanie Stearns, John DiPrete and more, and was 80 pages.