Jae Steele
From ZineWiki
Jump to navigation
Jump to search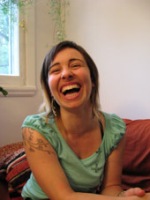 jae steele is a zinester who currently lives in Toronto, Ontario. She has seventeen zines under her belt including six cookzines, four zines on sexual health, two knit zines and a zine on herbal healing. She is also one of the original members of The League of Zine Girls.
Biography
jae made her first zine in the late 1990's when she and some friends assembled a feminist health collective as a high school co-op project in Toronto. She began making zines featuring vegan recipes after an internship on an organic farm in 2001. By 2003 she had started up Kitchen Sink Distro, though it is fairly inactive at this point. jae has contributed two other Toronto-based queer sexuality zines: She's Got Labe and The Fence. She has also written for and been interview by Broken Pencil magazine.
jae's cookzine writing has led to the development of her food-based weblog, Domestic Affair, and a cookbook, Get It Ripe: A Fresh Take on Vegan Living, published by Arsenal Pulp Press in 2008. She is also registered holistic nutritionist, reiki practitioner and certified health breast teacher.
Zines
Root: Vegan Comfort Food for the Colder Months (2007)
Sprouts and Roots: An Introduction to Natural Nutrition (2006)
Ripe (4 issues - 2003-2005)
Take Back the Knit (2 issues - 2004, 2005)
Seed (2003)
Vegan Freegan (2002)
Beating Around the Bush (4 issues - 2000-2003)
PussyWillow: Proactive Menstrual Awareness (1998)
External Links