It Goes On The Shelf
From ZineWiki
Jump to navigation
Jump to search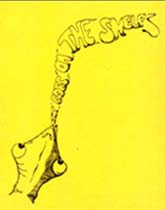 It Goes On The Shelf is an fanzine by Ned Brooks.
It Goes On The Shelf is created in Georgia, U.S.A., and hosted by fanac.org. 34 issues have been published as of 2012 and are available free online. Paper editions are also published, and were distributed through the Southern Fandom Press Alliance, Slanapa and to about 200 fans on a mailing list. The focus of the zine is on reviewing books, including rare books and older publications.
Back in the 1970s Ned Brooks did a zine called It Comes in the Mail which lasted 28 mostly bimonthly issues. He writes, "It worked on the basis that I would comment on everything pertaining to science-fiction and science-fiction fandom that I got in the mail. It died of success - with only an electric typewriter and a mimeograph machine, I could not keep up - the larger the zine got, the more came in the mail."
"It Goes on the Shelf" is, in Brooks' words, "...a more modest effort, and is now published only once a year. It's mostly about books that I find interesting."
Included is cover art contributed by Harry Bell (Grimwab), Sheryl Birkhead, Donald Corley, Brad Foster, Alexis Gilliland, Alan Hunter, Tim Kirk, Linda Michaels, Gavin O'Keefe, Dan Steffan (Boonfark), Steve Stiles, and Taral Wayne (DNQ).
Illustrations have been contributed by Sheryl Birkhead, F.G. Cooper, Brad Foster, Sean Russell Friend (Overspace), Alexis Gilliland, Alan Hunter, Ben Indick (Ibid), Terry Jeeves (ERG), Rick McCollum, Barry Kent McKay, Julia Morgan-Scott, Dan Osterman, Phil Tortorici, and Taral Wayne.
There is also a great deal of beautiful art reproduced from older publications, including pieces by D. Bruce Berry, Hannes Bok, F.G. Cooper, Donald Day (The Fanscient), Julia McCune Flory, John Grossman, Con Peterson, Ralph Rayburn Phillips, Sidney Sime, Richard Teschner, ATom, Dugald Walker, and others.
As well, earlier issues include reprints of short essays by Arthur Machen.
Letters come from Dainis Bisenieks, Vince Clarke (Pulp), Margaret Cubberly, Chester Cuthbert, Avram Davidson, Roy Tackett, Mark Valentine (Aklo), Harry Warner, Jr. (Horizons), and Walt Willis (Hyphen), among many others.
Ned Brooks is a distant midwestern cousin to Rick Brooks, comics artist and editor of Nargothrond.
External Links