If destroyed still true
From ZineWiki
Jump to navigation
Jump to search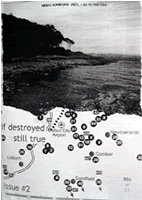 The correct title of this article is if destroyed still true. The initial letter is capitalized due to technical restrictions.
if destroyed still true is a perzine by Nine.
Each issue is 20 pages and mostly hand-lettered. An essay by Nine from this zine, entitled Plagiarists, Stalkers and other Headfuckery, appeared in Fall of Autumn Quarterly.