How To Be A Good Library Patron/How To Be A Bad Library Patron
From ZineWiki
Jump to navigation
Jump to search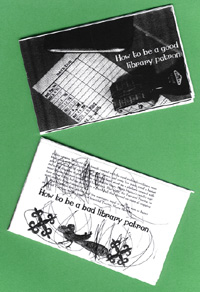 How To Be A Good Library Patron/How To Be A Bad Library Patron is a compzine published by Jerianne Thompson.
This minicomic presents both sides of the library experience in a split zine format with one side devoted to being a good patron and the other side to being a bad patron, based on stories shared by librarians. Illustrators include Rina Ayuyang, Susan Boren, Bobby Tran Dale, Kelly Froh, Cole Johnson, Bill McKay, and Androo Robinson.
The zine comes in a library book pocket, including a library catalog card, a date due card, and other library ephemera.