Hothead Paisan
From ZineWiki
Jump to navigation
Jump to search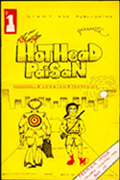 Hothead Paisan is a comic zine by Diane DiMassa.
The first issue of Hothead Paisan was released in 1991, published by Diane DiMassa's own imprint, Giant Ass Publishing. In later issues the subtitle "Homocidal Lesbian Terrorist" was added to the title.
The comic features the character Hothead Paisan who wrecks violent vengence on all who cross her path, while living in a small apartment with her cat Chicken. The title proved popular and many more issues followed throughout the 1990's and 2000's. Twenty one issues have been published, as well as a one shot issue featuring Chicken.
The comic had been collected into several anthology books, all published by Cleis Press.
External Link