Hoot
From ZineWiki
Jump to navigation
Jump to search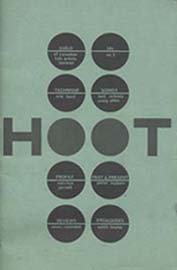 Hoot was a folk music fanzine published in the 1960s by the Guild of Canadian Folk Artists, in Toronto, Ontario, Canada.
Hoot was one of a select few fanzines dealing with folk music in the 1960s. It featured news, reviews, articles, photos and songs that the folklorists involved had discovered and collected. It also featured songs by the new 'folk revivalist' artists, which is the term those interested in folk in the 1960s used to distinguish themselves from the folk artists of the past whose work they were honouring. Hoot covered an eclectic mix of various forms of folk music including jug bands, ragtime, Bulgarian music, and artists such as Ian and Sylvia, Merrick Jarret, Gordon Lightfoot, Owen McBride, Joni Mitchell, Chick Roberts, Mike Seeger, Pete Seeger, The Stormy Clovers, Mary Jane and Winston Young and Jackie Washington. The Guild of Canadian Folk Artists also put on shows at ad hoc venues such as The Unitarian Church in Toronto.
The first issue appeared in August of 1963 and was edited by Joanne Hindley Smith. In its 22 pages, it featured an editorial on folk music and news and information on the Mariposa Folk Festival, which had just begun.
Issue two was released in the Fall of 1963 and was edited by Roger Feather. This issue was 8.5" X 7", and 40 pages printed on glossy paper. Hoot now included news items, books, record reviews and the first contribution by Canadian folklorist Edith Fowkes, on 'the Child Ballads'.
Issue three was released in Winter 1963, also edited by Roger Feather, and included a feature on folk singer Merrick Jarret and writing by Edith Fowkes on the 'Broadside Ballads'.
Vol. 2, No. 1., was the next issue, released in January 1966, and edited by Buzz Chertkoff.
Vol.2 No. 2 was released in March of 1966, also edited by Buzz Chertkoff. Hoot was now 62 pages and featured folk artists Lotys Morrin and Gordon Lightfoot.
Vol. 3 No. 3, edited by Buzz Chertkoff, featured Ian and Sylvia and La Rena Clark.
Vol. 2 No 4 was edited by Anne Hershoran, with The Stormy Clovers on the cover, and featuring Owen McBride.
Vol 2, No. 5, edited by Anne Hershoran, featuring Joni Mitchell on the cover.
Vol.3 No. 1 was the final issue and was released on Feb.- Mar. 1967 and edited by Leigh Cline. It featured Tom Eines.
Contributors to Hoot included Eric Anderson, Helen Creighton, Edith Fowkes, Chuck Klein, Estelle Klein, Peter Wyborn, and photos by Lesley O'Neil.
External Links