Hide
From ZineWiki
Jump to navigation
Jump to search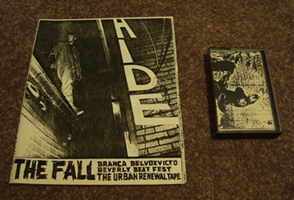 Hide was a zine released in Toronto, Ontario, Canada in the 1980's.
Hide was a multimedia zine with each issue released in both zine form and accompanied by an audio compilation cassette, or 'mix tape'. The type of music featured in Hide, in both the zine and on the cassette, ranged from punk and industrial bands, to post punk and hardcore, and even more experimental music, sometimes of an electronic nature, such as tape loops, but sometimes acoustic. Five issues were released.
Hide releases are now collectors items, occasionally found for sale on-line, since they were issued in limited editions.
Hide was published by Caroline Azar and Candy Parker. They were later joined by G.B. Jones who, together with Caroline Azar, went on to publish Double Bill in the 1990s.
Issues
Issue Three lists The Cramps and Ross McClaren on the cover.
Cassette
Side 1: Fifth Column, Wars In Transit, Laissez Faire, The Enemas, Rongwrong, Fifth Column, The Elementals
Side 2: The Woods Are Full of Cuckoos, Graham, Dharma Bombs, The Cramps

Issue Four lists The Fall and Glen Branca on the cover.
The Urban Renewal Tape (cassette)
Side One: Fifth Column, Deadlines, Believer's Voice of Victory, Dave Howard Singers, Polkaholics, Potential Propaganda, Rongwrong, Teenage Kicks
Side Two: Polkaholics, Safari BBQ, The Party's Over, Michael Philip Wojewoda, Verl Moray, Raw Burnt Will, Fitz Loop
Dementia 5 (cassette)
Side One: Fifth Column, A.S.F., Unwarranted Trust, Word of Mouth, The Curse, The Bettys, Girl War III
Side Two: MyDolls, Polkaholix, Edie Steiner, Ragged Bags, New Mr. Orrs, Really Red, Racer X
External Link