Happy Birthday, LeeH!
From ZineWiki
Jump to navigation
Jump to search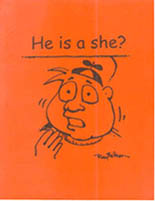 Happy Birthday, LeeH! was a one-shot fanzine created by Edie Stern for Lee Hoffman, as a surprise present on the occasion of her 70th birthday in August 2002.
The editor arranged for it to be sent to relatives of Lee's that she was having dinner with on her birthday. It is a 50 page fanzine full of remembrances from old friends and more recent friends in science fiction fandom and from the fanzine world.
The cover is by Ray Nelson and references the surprise many fans received at the first Worldcon Lee Hoffman attended, when they found out the editor of their favorite fanzine, Quandry, was a girl.
Contributors include, in order of appearance, Ray Nelson, Bob Tucker (Le Zombie), Tim Marion, Edie Stern, Gary Ross Hoffman, Carol Carr, Melanie Herz, Richard Lupoff (Xero), David Langford (Ansible), Francine Mullen, Ton Whitmore, Robert Lichtman, Rusty Hevelin, Jack Weaver, Earl Kemp (Destiny), Georgina Ellis (Honque, Queebshots), Keith Harvey, Peggy Dolan, Edie Stern, John-Henri Holmberg, Joe Haldeman, Gay Haldeman, Buz Busby (Cry of the Nameless), Geri Sullivan (Science Fiction Five Yearly), Avedon Carol, Joyce Katz (ODD, Vegas Fandom Weekly), Marty Cantor (Holier Than Thou), Sarah Clemens, Shelby Vick (Confusion), Joe Siclari, David Bratman, Teny Hoffman, Gregory Benford, Mike McInerney, Andy Porter, Roger Sims, Mary Holwager, Steve Stiles, Priscilla Olson, Bob Toomey, Rose and Aaron Rennert, and Ted White.
Art work was by Tim Marion, Gary Hoffman, Walt Kessel, Stu Shiffman, and Shelby Vick, with a cover by Ray Nelson.
Lee later told the editor it was a complete and utter surprise.