Grotesque
From ZineWiki
Jump to navigation
Jump to search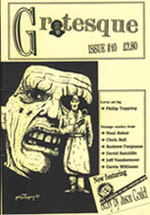 Grotesque was a small press magazine edited by David Logan.
Published in Co Antrim, North Ireland, Grotesque was a literary publication devoted to weird fiction, fantasy and horror. The first issue appeared in April 1993. Issue 10, the final issue, appeared in 1996.
Cover art work was by Cathy Buburuz (Champagne Horror), Wendy Down, Richard Kerr, Desmond Knight, and Philip Topping.
Contributors of fiction included Jessica Anderson. Graham Andrews, Neal Asher, Tom Baldwin, Chris Bell, Molly Brown, Cathy Buburuz, Rick Cadger, Simon Clark, Sue Corbett, Andy Cox, Barbara Davies, Frank O. Dodge, Wendy Down, John Duffield, Lawrence Dyer, Kim Elizabeth, Dave Ellis, Sarah J. Evans, Donal Fahy, Andrew Ferguson, Vic Finn, Lyn Funnell, John Gaunt, Jason Gould, Andrew Hook, Rhys Hughes, Shaun Jeffrey, Alexander Johnson, W.J. Johnson, Jim Johnston, Richard Kerr, Kim Elizabeth Laico, Tim Lebbon, David Logan, D.F. Lewis (Nemonymous), Kim Lyst, William Meikle, Paul Pinn, Michael J. Pont, David Ratcliffe, Sam Ravens'craft, Peter Revely, Katherine Roberts, Frank Swannack, Peter Tennant, S.P. Tollyfield, Sara-Jane Townsend, Philip H. Turner, Jeff VanderMeer, Trevor Wentworth, Conrad Williams, Gavin Williams, Roddy Williams, and Pamela Yeager (Fantasque).
Articles were by Chris Kenworthy, and David Logan, and book and fanzine reviews by Alan McClenaghan and Isa Wormhole.