Difference between revisions of "Give Me A Dollar"
From ZineWiki
Jump to navigation
Jump to search
 

(6 intermediate revisions by 2 users not shown)
Line 1:
Line 1:
−

[http://countercloskwisepublishing.com]

+

[:.]

−

Click on this link to get "Give Me A Dollar" and other free zines by Robnoxious.

+

 

 
+

Give Me A Dollar"

 
+

 

 
+
 
+

 

 
+
 
+

 

 
+
 
+

 

 
+

and

 
+

 

 
+
 
+
 
+

 

 
+

zines
---
Latest revision as of 04:53, 9 November 2009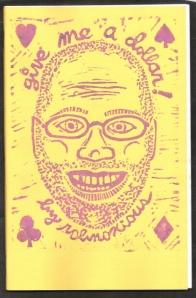 Give Me A Dollar #1 by Robnoxious, is described as "True life stories of boat punks and trying to make money, numerous photographs."
Contact
robotearl[at]gmail[dot]com; 1771 11th St., Oakland, CA 94607
Contents
Contents includes the following: Relaxing; The Snowball & The Flood; Libraries Are Good; Sometimes the Fun Goes Away; Forgotten Tales of the Boat Punks: Winter on The River Bed; Minneapolis; Danville Illinois; Teamy Holler Tennessee, Kansas City Missouri, Chicago, 3 Strange Things, The Diamond, The Monster Is Capitalism or Is It Me, Clawing My Fingers Thru The Dirt; Hitch Hiking With Ernie During A Heatwave; The Cognitive Study; Demetri Demas; Help Me; Bag of Money; Cognitive Study #2; Dead Dog; and Dumping.
External Links