Girl Fiend
From ZineWiki
Jump to navigation
Jump to search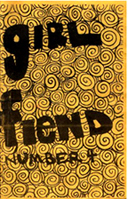 Girl Fiend was a zine by Cookie Tuff, published in Amherst, Ma., U.S.A. in 1992.
This publication was a perzine and Cookie wrote about her experiences in Amherst going to College. A number of issues of the zine were published.
In issue 4, Cookie writes about going to a Riot Grrrl meeting, and other peoples' misconceptions about it; going to a Queer Alliance meeting and feeling alienated and out of place; the difficulties she has coming out to her parents; getting the band Fifth Column to play at her College, and what seeing all-girl bands means to her; and starting her own band with friends, called "Bad Hair Day".
Girl Fiend was one of the publications featured in issue six of Outpunk, a compilation issue which featured zines that editor Matt Wobensmith felt had impacted the scene.
Cookie Tuff later moved to San Francisco and played in the band Subtonix.
Girl Fiend is included in the Sarah Wood Zine Collection at Duke University Library.
External Links