Difference between revisions of "G.B. Jones"
From ZineWiki
Jump to navigation
Jump to search
Line 48:
Line 48:
 

*[http://www.youtube.com/GBJonesTown GB Jones on YouTube]

 

*[http://www.youtube.com/GBJonesTown GB Jones on YouTube]

 

*[http://www.myspace.com/515616795 GB Jones on My Space]

 

*[http://www.myspace.com/515616795 GB Jones on My Space]

−

 

+
 
 
 
 
---
Revision as of 23:08, 17 August 2010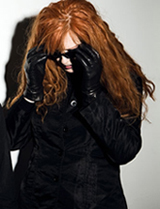 G.B. Jones is an influential artist, filmmaker, musician and zine editor from Toronto.
J.D.s, her first zine, was co-published with Bruce LaBruce and ran for eight issues. The first issue of this cut and paste, photocopied publication appeared in 1985, the intitials 'J.D.s' standing for 'Juvenile Delinquents'. The two editors wrote a manifesto which appeared in Maximum Rock N Roll in February 1989. The effect of the manifesto, and J.D.s itself, was widespread, setting off an explosion of like-minded zines. The editors also released a cassette compilation tape, called the J.D.s Top Ten Tape, featuring bands from the U.S.A., Canada, New Zealand, and the UK, and held J.D.s film nights in London, Toronto, Montreal and San Francisco in 1990.
G.B. has directed, and appeared, in a number of films, and was a contributor to the film zine created by Miranda July called Joanie4Jackie. Her movies have all been made on Super 8. The Troublemakers premiered in 1990 and proved influential. Her next film was The Yo-Yo Gang, released in 1992, a 30 minute 'exploitation' movie about girl gangs that has gained cult film status. The film features a number of zine editors, such as Donna Dresch, Deke Nihilson, Bruce LaBruce, and the members of G.B.'s band Fifth Column. Her latest production is "The Lollipop Generation", a feature film that, like her previous movies, stars many zine editors including Jena von Brucker, Vaginal Davis, Joel Gibb, Jen Smith, Johnny Noxzema, Scott Treleaven, Anonymous Boy, Gary Fembot and Stevec Bones.
After the demise of J.D.s in 1991, G.B., along with Jena von Brucker, Caroline Azar, Johnny Noxzema and Rex released the often contentious zine Double Bill, referred to as an 'anti-zine' or, more frequently, a 'hate zine' (as opposed to 'fanzine'), a new category in the self publishing world. Five issues were produced between 1991 and 2001. The editors contributed to the zine Girl Germs. As well, G.B. and Jena were interviewed by Alarm Clock, and the zine was written about in The Village Voice, among other publications.
G.B. is well-known for her drawings, which first came to attention through J.D.s. In 1996, a gallery in New York released the book G.B. Jones, containing drawings and other artwork from J.D.s and Double Bill by G.B., with commentary by Dodie Bellamy, Kevin Killian, Dennis Cooper, Jeffery Kennedy, Vaginal Davis, and others. Although readily available in the U.S. and Europe, copies were seized at the Canadian border and it was pronounced "Banned In Canada".
Her work has been printed in a wide variety of mediums including books, comic anthologies, magazines, posters, t-shirts, record, cassette and CD covers and most especially in zines, and has been shown in galleries and museums in Europe, Canada and the U.S. She was interviewed and featured in the book DIY: The Rise Of Lo-Fi Culture, released in 2005.
Her work can be seen in the pages of the zines she has contributed to, such as F.O.D.! Maggotzine, Girl Germs, Sugar Needle and This Is The Salivation Army, or been featured in, such as Femme Flicke, Urban Legends, and Colouring Outside The Lines, from throughout the U.S., Canada, Europe and Australia.
Publications
Cinematic folds: the furling and unfurling of images, edited by Firoza Elavia, Pleasure Dome, 2008, ISBN 9780968211540
The Book of Boy Trouble Vol 2, edited by Robert Kirby and David Kelly, Green Candy Press, 2008
Juicy Mother 2: How They Met, edited by Jennifer Camper, Manic D Press, 2007 ISBN 978-1-933149-10-2
The Salivation Army Black Book by Scott Treleaven, Printed Matter/Art Metropole; 2006
Juicy Mother, edited by Jennifer Camper, Soft Skull Press; 2005 ISBN 19-932366-70-0
Boy Trouble, edited by Robert Kirby and David Kelly, Boy Trouble Books; 2004 ISBN 0-9748855-0-9
What's Wrong? Explicit Graphic Interpretations Against Censorship, edited by R. Fisher, Arsenal Pulp Press; 2002 ISBN 1-55152-136-9
Dangerous Drawings, edited by Andrea Juno, Juno Books; 1997 ISBN 0-9651042-8-1
G.B. Jones, edited by Steve LaFreniere, Feature Publications; 1996
Discontents, edited by Dennis Cooper, Amethyst Press; 1992
Double Bill, editors Caroline Azar, Jena von Brucker, G.B. Jones, Johnny Noxzema, Rex; 1 - 5, 1991 - 2001
J.D.s, editors G.B. Jones and Bruce LaBruce; 1 - 8. 1985 - 1991
Films
The Lollipop Generation, directed by G.B. Jones (2008)
I Believe In The Good Of Life, video for The Hidden Cameras, directed by Joel Gibb (2005)
She's Real, directed by Lucy Thane (1997)
Airplane On The Highway, video for Bob Wiseman, directed by Caroline Azar (1994)
The Yo-Yo Gang, directed by G.B. Jones (1992)
No Skin Off My Ass, directed by Bruce LaBruce (1991)
Like This, video for Fifth Column, directed by Bruce LaBruce and Fifth Column (1990)
The Troublemakers, directed by G.B. Jones (1990)
Cross Your Heart, directed by Suzy Richter (1989)
Bruce and Pepper Wayne Gacy's Home Movies, directed by Bruce LaBruce and Candy Parker (1988)
Boy, Girl, directed by Bruce LaBruce (1987)
Fifth Column at the Funnel, directed by John Porter (1985)
[edit]
External links