Difference between revisions of "Feemwlort"
From ZineWiki
Jump to navigation
Jump to search
m

Line 25:
Line 25:
 

[[Category:Science Fiction Zines]]

 

[[Category:Science Fiction Zines]]

 

[[Category:Fantasy]]

 

[[Category:Fantasy]]

 
+
---
Revision as of 18:28, 16 September 2015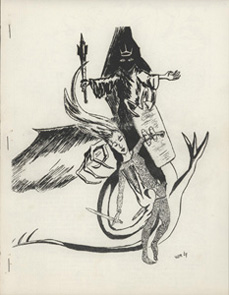 Feemwlort was a science fiction and fantasy fanzine by Greg Shaw.
Feemwlort was published in San Bruno, California, U.S.A. The first issue came out in Spring 1965. It was a general interest fanzine, and included editorials, reviews, articles, poetry, art work and letters of comment. Cover art work was by Bill Reynolds.
The second issue appeared in June 1965. It includes the article "A Dictionary of the Elven Words from J.R.R. Tolkien's Lord of the Rings" by Greg Shaw, and cover art by Bill Reynolds.
Issue 3 was released August 1965 and features a con report on Westercon, additions to Shaw's Dictionary, and cover art by Bill Reynolds.
Issue 4, published December 1965, featured the poems, A Man's Farewell to the Elvenlords, by E.E. Evers, A Differing View, an elegy by Greg Shaw, and an article by Milt Stevens on Graham Greene.
Issue 5 came out in April 1966, and included the article, "A Look at Asimov's Foundation Series" by Michael Viggiano.
Other contributors included Buck Coulson (Yandro), Dave Locke (Awry), and Bjo Trimble (Pas-Tell, Melange).
Art work was contributed by Fred Hollander and Bill Reynolds, among others.
Letters came from John Borton, Cuyler Warnell (Ned) Brooks, Jr. (later editor of It Goes On The Shelf), Nate Bucklin, Kris Carey, Fred Hollander, Banks Mebane, Larry Paschelke, James Toren, and Harry Warner, Jr. (Horizons).
Greg Shaw was simultaneously publishing Entmoot, a publication devoted to Tolkien and his writings and, and his music fanzine Mojo-Navigator Rock & Roll News. He went on to publish Metanoia with Suzy Shaw in the 1970s, and his best known publication, Bomp!.