Featherproof books
From ZineWiki
Jump to navigation
Jump to search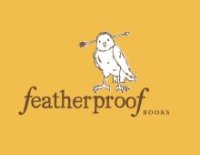 Featherproof Books is an independent publisher located in Chicago, IL. The press was founded in 2005 by Jonathan Messinger and Zach Dodson. They publish one or two titles per year.
Mini-Books
Mini-books are a series of self-contained short stories published periodically. These stories are printed on ordinary paper by the reader and folded into pocket-sized books. The books and their instructions can be found for free at Featherproof.com.
Staff
Zach Dodson, Co-founder, – Zach is art director for shelter magazine. He is also the creative director for MAKE: A Chicago Literary Magazine, which he helped to found. He has extensive experience in publishing with many small companies. His graphic design collective, Bleached Whale has produced many identity, website and packaging projects targeted at today's youth culture. He has worked on numerous arts publications including Newcity, Punk Planet, and Time Out Chicago and is a managing editor of the Printers Ball.
Jonathan Messinger, Co-founder — Jonathan is the Books editor for Time Out Chicago. He was the editor of THISisGRAND, a web magazine chronicling true stories on Chicago's public transit. He has toured extensively in Canada and the United States, and is the creator and host of The Dollar Store Reading Series, a successful monthly show that has been lauded in every major print media outlet in Chicago and has sold out for two years running. His fiction has appeared in major and alternative outlets across the country, including Other Voices and McSweeney's.
Molly Each, Head of Publicity — Molly has worked in publicity and marketing for Chicago press Ivan R. Dee. She is also editor of the creative non-fiction journal No Touching, and is on the story development team for the reading series 2nd Story, and is currently finishing her MFA in creative writing at Columbia College.
Mark Byrne, Associate Editor — Mark has worked as a writer and editor at Punk Planet, Chicago Innerview, and as managing editor of the Columbia Chronicle.
Justin Hoffman, Intern - Justin is finishing his BFA at Columbia College Chicago. His work has appeared in OutCry Magazine. He also publishes a online/pdf zine called FreightTrain. He is the writer of both fiction and stage plays.
Samia Saleem, Guest Editor - Samia was born and raised in New Orleans, but was displaced to New York, where she makes a living as an interactive designer.
Publications
The Enchanters vs. Sprawlburg Springs by Brian Costello (January 2006)
Sons of Rapture by Todd Dills (September 2006)
Degrees of Separation edited by Samia Saleem (July 2007)
Hiding Out by Jonathan Messinger (October 2007)
External Links