Fan To See
From ZineWiki
Jump to navigation
Jump to search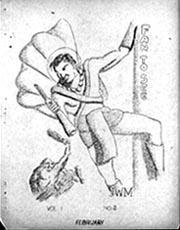 Fan To See was a science fiction fanzine by Larry Touzinsky.
Fan To See was published in the 1950s in St. Louis, Missouri, U.S.A.
The Art Editor was Nancy Share (Hodge-Podge, Ignatz, Summer Torrents), and the Assistant Editor was Paul Mittelbuscher. Issue 1 was published January 1953, with issue 2 following in February 1953. At this point the editor announced that Fan To See would appear irregularly. At least two more issues were released.
Contributors included Terry Carr (Innuendo), Kent Chatterton, Robert E. Clarke, Isabelle E. Dinwiddle, Bill Donnelly, Harlan Ellison (Science Fantasy Bulletin), Dave Hammond, Max B. Miller, Paul Mittelbuscher, Wanita Norris, Jack Bowie Reed, with an article on the history of Canadian fanzines, and Juanita Wellons (later better known as Juanita Coulson, co-editor of Yandro).
Art work was contributed by Margaret Dominick (as DEA), David English (Fantasias), Nancy Share, and Juanita Wellons Coulson. Covers were by Nancy Share for issue #1, and by Joseph W. Miller for issue #2.
Letters came from Robert Bloch, Redd Boggs (Sky Hook), Wilkie Connor, Nan Gerding (The Chigger Patch of Fandom, Starlanes), Ian T. Macauley (Cosmag), Jack Bowie Reed, and Bob Tucker (Le Zombie).
External Links