Fan Slants
From ZineWiki
Jump to navigation
Jump to search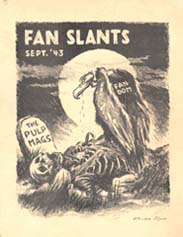 Fan Slants was a science fiction fanzine co-edited by Mel Brown and Mike Fern in the U.S.A.
The first issue was published in September 1943, with two more issues of Fan Slants following between 1943 and 1944.
All three issues have covers by Ronald Clyne, with interior art work by him as well. According to a later account by Francis Laney, editor Mel Brown had to do some wheeling and dealing with LASF member Walter Daugherty, who had sneakily managed to obtain all of Clyne's work for fanzines, in order to be able to use the cover Ronald Clyne had already done especially for his first issue of Fan Slants.
Contributors of writing included Forrest J Ackerman (Voice of the Imagi-Nation), Phil Bronson (The Fantasite, Scienti-Comics), Walter J. Daugherty (Shangri L'Affaires), Charles Dye, Paul Freehafer (Polaris), William Hamling, Arthur Joquel (FMZ Digest, Specula, Sun Trails), James Kepner (Toward Yesterday), Francis T. Laney (The Acolyte), Walt Liebscher (Chanticleer), Emile Petaja, Duane Rimel, Bob Tucker (Le Zombie), Gus Willmorth, Donald Wollheim (The New Hieroglyph), and T. Bruce Yerke (The Damn Thing).
Fan Slants was released through the Fantasy Amateur Press Association.