Fall of Autumn Quarterly
From ZineWiki
Jump to navigation
Jump to search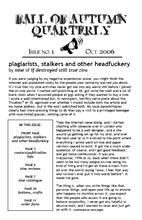 The Fall of Autumn Quarterly (FAQ) is a free publication by the Fall of Autumn distro. The zine is half journal - featuring articles, interviews and zine reviews - and half paper catalog for their distro.
Issue 1
The first issue was printed in September of 2006 for an October release. The journal section featured a piece called Plagiarists, Stalkers and Other Headfuckery by Nine of if destroyed still true zine.
Each issue is available for free by request from the Fall of Autumn site, or can be downloaded in PDF format (see external links).
External Links