Eridani Triad
From ZineWiki
Jump to navigation
Jump to search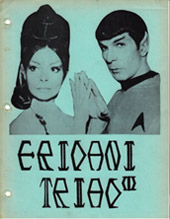 Eridani Triad was a media science fiction fanzine devoted to the original television series, Star Trek.
Published by Judith Brownlee in the U.S.A., and edited by Gail Barton and Doris Beetem (the Younger), the fanzine appeared in the 1970s. Three issues were published.
The first issue was published in 1970. Consisting of 102 pages, it features artwork by Gail Barton, Debby Bethurem, and Ed Stein; plays by Doris Beetem; and articles by Gail Barton, Doris Beetem, and Judith Brownlee.
Issue 2 appeared in 1971. It was 120 pages, featuring articles by Gail Barton, Doris Beetem, fiction by Doris Beetem, and Judith Brownlee, and artwork by Dee Beetem, and D. Carol Roberts (Impulse). Letters came from Star Trek actor Barry Atwater, among others.
Issue 3 came out in 1972, with 122 pages. Artwork was by M.L. Barnes, Gail Barton, Liz Danforth (Impulse), Bill Guy, Jim McLeod, Roz Oberdieck, D. Carol Roberts, and Mary Ann Walther. Articles were by M.L. Barnes, Doris Beetem, and Hal Clement; poetry by Gail Eirann, and Carrie Peak; and fiction from Ruth Berman ( Despatch, Inside Star Trek, T-Negative, The Star Trek Songbook), Judith Brownlee, Doris Beetem, Devra Langsam (Spockanalia), Jacqueline Lichtenberg, and James Tiptree, Jr., with the story "Meet Me At Infinity".
Issue 3 included Doris Beetem's story "The Hunting", which was later be published in the paperback anthology Star Trek: The New Voyages (1976), along with the stories of other early Star Trek fan writers such as Ruth Berman and Juanita Coulson. Her science fiction stories also appear in anthologies such as Decades of Science Fiction (1998).
External Links