El Otro Lado
From ZineWiki
Jump to navigation
Jump to search
The printable version is no longer supported and may have rendering errors. Please update your browser bookmarks and please use the default browser print function instead.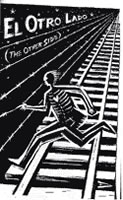 El Otro Lado (in English: "The Other Side") is a travel zine by Sascha Scatter about his trainhopping trip to Mexico. The zine uses the story of the trip to address Mexican cultural issues.
This is a 92 paged, photocopied and half sized zine.
Contact
efpmagazine@yahoo.com
External Links