Eclipse
From ZineWiki
Jump to navigation
Jump to search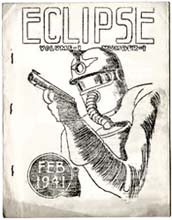 Eclipse was a science fiction fanzine published by members of the Detroit Science Fictioneers.
Eclipse was published in Detroit, Michigan. U.S.A., and was the official publication of the Detroit Science Fictioneers, and shared the same headquarters. Members of the group are Richard Kuhn, Lynn Bridges, Rudy Sayn, Eugene Calewaert, Jack Jones, Seymour Kaptoansky, Katherine Merousson, Lee O'Connellm and Portteus. It was a twenty page, mimeographed publication that featured science fiction writing and reviews of the latest 'pulp' SF prozines and books by SF authors.
The editors for issue 1, published in February 1941, were Kuhn, Bridges and Portteus, as well as for issue 2, released in April of the same year. Issue 3, from June, was edited by Richard Kuhn. Issue 4, appearing in August, was edited by Lynn Bridges and Rudy Sayn. Issue 5, the last issue, was published in February 1942, and edited by Richard Kuhn.
During World War II, Sgt. Lynn Bridges was stationed in New York City and after the war went on to do a fanzine for the Fantasy Amateur Press Association.