Dark Fantasy
From ZineWiki
Jump to navigation
Jump to search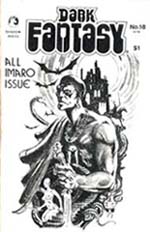 Dark Fantasy was a literary fantasy and horror fanzine by Howard Eugene (Gene} Day (1951-1982).
Gene Day began publishing Dark Fantasy in 1973 in Gananoque, Ontario, Canada. A total of 22 issues were published, the last issue in 1980. Issues 12 and 13 were lost by the printer but issue 12 was later reconstructed and printed after issue 19 had come out in 1979. Gene Day died before issue 13 could be reconstructed.
Writing contributors included Bill Baron, Charles De Lint, Gordon Derevanchuk, Tom Egan, Steve Eng, Joe Erslavas, William Fulwiler, Ken Hahn (Jeet), Wayne Hooks, Kenneth Huff, Gale Jack, James Lankashire, David Madison, David Mowry, Charles R. Saunders, Dorothy Wagner, Neal Wilgus, Richard deWolfe.
Art contributors included John Charette, Bruce Conklin, Dan Day, Gene Day, Larry Dickison, Stephen Fabian, Tim Hammell, R.G. Krenkel, Ken Raney and David Vosburgh.
Also featured was poetry by Robert E. Howard.
Dark Fantasy is noted for featuring the first publication of the "Imaro" stories of Charles Saunders. Several issues featured these stories, and issue 18 was the "All Imaro Issue".
The Gene Day Award for Self-Publishers is an annual award in Day's honour given to Canadian self publishing comic book creators.
External Links