DNQ
From ZineWiki
Jump to navigation
Jump to search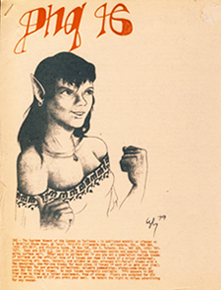 DNQ was a science fiction fanzine published by Taral Wayne and Victoria Vayne in Willowdale, Ontario, Canada.
DNQ, the initials standing for "Do Not Quote", was published from April 1978 till October 1984. It was a monthly publication, usually mimeographed in two and three colours. 34 issues were published.
From issues 1-4 the editors called DNQ the "newzine of quintessential faanishness"; and for issues 5-8, "the subjective faanish newsletter' for issue 11, a "subjective fit of extemporaneous faanishness". Issue 12 was an "unauthorized addenda to File 770" (by Mike Glyer).
In an editorial, Taral Wayne writes about the zine, "In a faanish newszine I believe news should be expected to be fluid. We read not a summation of known facts but the process of discovery of the facts...If everybody wants a newszine, nobody seems to want to be the news...On three of four occasions we have been informed that our reportage was uninvited or unappreciated."
The final issue included work by John Berry (Pot Pourri, The Damned Patrol), Rich Coad, Dave Langford (Ansible), Eric Mayer, Stu Shiffman (Raffles), and a reprint of writing by Susan Wood.
Artists included Jerry Collins, Ken Fletcher (Rune) with Tom Foster, Terry Jeeves (ERG), Marc Schirmeister, and Taral Wayne with Harry Bell (Grimwab), with August Dore, and with Barry Kent McKay.
Other contributors included Mike Bracken, H. Petard, Bob Shaw, Stu Shiffman, and Ted White (Stellar, Void), as well as reprints of articles by Greg Benford (Void), Susan Wood (Amor, Genre Plat) and Harry Warner, Jr. (Horizons).
Other art work was contributed by Jim Barker, Phil Foglio, C. L. Healy, Terry Jeeves, and Bill Rotsler.
In 1980, DNQ was the target of a parody by Jim Shedden, with his fanzine This Sure As Hell Ain't DNQ: Taral Wayne would later contribute to Shedden's zine The Hanged Men Dance, so in all likelihood this was a friendly parody.
Victoria Vayne also published the fanzine Simulacrum and edited the anthology Fanthology 76.
Taral Wayne also published the anthology Toronto the Ghood.