Clamor Magazine
From ZineWiki
Jump to navigation
Jump to search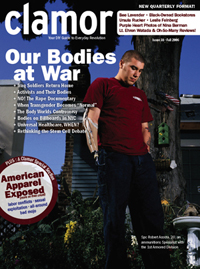 Clamor was a quarterly print magazine and online community of radical thought, art, and action. An iconoclast among its peers, Clamor was an unabashed celebration of self-determination, creativity, and shit-stirring. Clamor published content of, by, for, and with marginalized communities. From the kitchen table to shop floor, the barrio to the playground, the barbershop to the student center, it's old school meets new school in a battle for a better tomorrow. Clamor was a do-it-yourself guide to everyday revolution.
The magazine began publishing in November 1999. In 2002, co-founders Jen Angel and Jason Kucsma were profiled as two of "30 Under 30 Visionaries who are Changing the World" by Utne Reader.
In 2000, Clamor won "Best New Title" in the Utne Independent Press Awards and was nominated for "Best Social/Cultural Coverage" each following year until the magazine ceased publication.
On November 29th, 2006, Clamor announced the magazine would cease publication because of financial reasons. Archives for each issue remain available online.
External Links