Chunk 666
From ZineWiki
Jump to navigation
Jump to search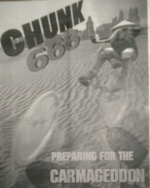 Chunk666 was a zine published in the late 1990s and early 2000s by Megulon-5, a member of the Chunk666 tallbike club in Portland, Oregon. They appear to enjoy setting their bikes on fire and riding them around town.
Issues
One - Preparing for Carmageddon
This edition introduces the Chunk members, with photos of rather dangerous looking choppers, tallbikes and trikes. There are no less than three pages of bike porn! Also featured are a guide on building tallbikes and an account of meeting the Hard Times bike club. Published in 1997. 84 pages.
Two - Heat Shield of the Celestial Chariot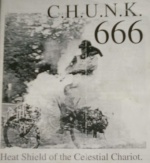 Features photos and loving descriptions of some unlikely looking tallbikes and longbikes, all handmade. There is a page (sadly only one page in this issue) of bicycle porn, a report from the Chunkathalon and an account of recovering a stolen bike. Published in 1999. 44 pages.
Three - To Heed the Moronic Dictum
There are reports from the 1999 Bike Summer chopper construction conference in San Francisco, the 1999 Seattle Riots tour and the Millenium Ride in Portland, in which the club was proud to be carrying a ridiculous amount of illegal fireworks. Published in 2001. 56 pages.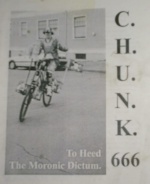 External Links