Chuch
From ZineWiki
Jump to navigation
Jump to search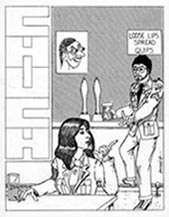 Chuch was a science fiction fanzine by Avedon Carol and Rob Hansen.
Chuch appeared in 1986 and was published in the UK. It was a one shot fanzine of 22 pages, Quatro size.
Contributions to Chuch included work by Jeanne Gomoll (Janus, Six Shooter); "Our Lady of Pain" by Dave Langford (Ansible); "Thank You, Girls", Christopher Priest's account of meeting two girls who dragged him and a friend to Liverpool to see The Beatles play at The Cavern in 1962; and work by Patrick Nielsen Hayden (Izzard).
Art work was by Rob Hansen.
Avedon Carol has previously co-published the fanzine Rude Bitch with Lucy Huntzinger.
Avedon Carol and Rob Hansen were also co-editors, with Vince Clarke, John Harvey and Pam Wells, of the fanzine Pulp, which was published from 1986 till 1991.
Rob Hansen also edited the 1987 SF anthology Now Read On, and Epsilon, which won the Nova Award for Best Fanzine in 1982.
External Links