Chris Garcia
From ZineWiki
Jump to navigation
Jump to search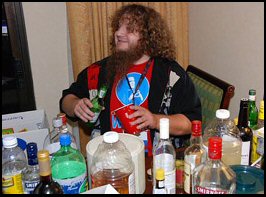 Christopher J. Garcia (October 21st, 1974 - ) is an editor, fan writer and LetterHack from Santa Clara, CA.
Chris Garcia edits The Drink Tank, Claims Department and L*I*S*P*, and co-edits (with Jean Martin) Science Fiction / San Francisco. In 2010, he and coeditors Claire Brialey and James Bacon won the Nova Award for Best Fanzine for Journey Planet. In 2011, he and coeditor James Bacon won the Hugo Award for Best Fanzine for The Drink Tank.
Garcia writes for many different zines edited by others, including Dave Burton's Pixel, Arnie Katz's Vegas Fandom Weekly and other Magazine. He wrote and edited several very small zines in the 1990s, including YANKspot and Stacked Decks.
Garcia is a member of several Amateur Press Associations, including the Fantasy Amateur Press Association (FAPA), the Southern Nevada Amateur Press Society (SNAPS), eAPA, and the Australia New Zealand Amateur Press Association (ANZAPA) and is a former member of The Everlasting Club.
Garcia also maintains the BArea Fanzine Archive which features hundreds of science fiction fanzines from around the world.
Zines
Contributions
External Link