Caroline Azar
From ZineWiki
Jump to navigation
Jump to search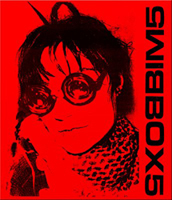 Caroline Azar is a zine editor, musician, playwright, actor and director from Toronto, Ontario, Canada.
Her first zine, released in the 1980's, was Hide, a multi media publication released in both print and audio cassette format. The zine and cassette featured music that ranged from punk to experimental compositions in both electronic and other forms. Five issues were released.
Her next zine was Double Bill, a collaboration between editors Jena von Brücker, Johnny Noxzema, Rex, and G.B. Jones. Double Bill was published from 1991 till 2001, and five issues were released. The zine was based on the notion that actor Bill Conrad (star of movies and television's Cannon, Jake and the Fat Man, and Nero Wolfe) was at war with author Bill Burroughs (the beat writer of Naked Lunch and other novels) and was termed a 'hate-zine', as opposed to 'fanzine'. The editors of Double Bill collectively contributed to Girl Germs and the zine was featured in articles in The Village Voice.
Caroline Azar was also the lead singer and keyboardist for the band Fifth Column, which released many recordings during the mid 1980s and throughout the 1990s, till 2002. She is also an actress and has starred in several films, including those of fellow bandmate and zine editor G.B. Jones, as well as appearing in Fifth Column's videos and television appearances, and the films and plays of other directors. As well, she is a director and playwright, who has directed a variety of videos, films and plays.
Caroline Azar had appeared in many zines, whether being interviewed with the band Fifth Column in Bleeding Swans, Feeble, and The Hanged Men Dance, or for her films, plays, and zines. She has been featured in zines such as Q.T., was interviewed for Making Waves, and Fuh Cole, among others, and featured on the cover of Bimbox issue 5.
On April 26, 2013, Caroline Azar and G.B. Jones gave the keynote talk at She Said Boom: Feminist Zine Making Symposium in Toronto, Ontario, Canada, a three day event resulting in the publishing of a feminist zine by the participants.
Zines
Contributions
Films
External links