Brainiac Zine
From ZineWiki
Jump to navigation
Jump to search

The title Brainiac Zine currently includes three issues, the first of which was published by Kate Sandler in 2003. The fourth issue will be released in August, 2006. The zine mainly contains nonfiction humor essays, though they are not always intended to be funny.
Format and History
Brainiac's format changes wildly from issue to issue. The first run of the first issue involved a complicated array of little hand-cut pieces of paper fastened to custom-sized cardstock in four seperate chapter groupings. This format remains the author's favorite, but it took her one hour and 15 minutes to make each individual copy of the zine. Only 29 copies were made, all of which have long been sold.
Issue two was produced in what Kate believed would be the easiest way possible. Still reeling from all the time she had put into the first issue for so few copies, she e-mailed files to Kinko's and paid the staff there to put the whole thing together for her. The results were disasterous for the zine and, having already paid for the work, Kate left the Kinko's with 200 copies of a zine that had been copied at such low contrast that it could not be read. She recycled that run in the bin at the Harrison St. Red Line subway station in Chicago, IL. She then created a second run using color-copied duotone covers and laser-printed pages from the computer lab at her college. They were consequently stapled and sold. No copies remain in the author's posession. It looked like a regular 1/2-size zine with red and black covers.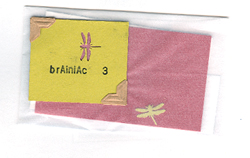 Brainiac Zine's third issue was released in 2005. It consists of a small envelope, very small pages stapled with colorful staples, a few very small color photographs, a tiny cardstock dragonfly and a red blank business card. And some photo corners. It has eight chapters, some of which are lists. It includes an advice column. It took 45 minutes to make each individual zine, ergo Kate produced only 36 copies. They are not all gone, but at their current rate of sale, issue three will join issues one and two in complete unavailability by the end of summer 2006.