Black Lite
From ZineWiki
Jump to navigation
Jump to search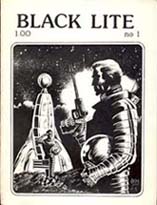 Black Lite is a fantasy, science fiction and horror fanzine by John DiPrete.
Black Lite was published in Cranston, Rhode Island, U.S.A. The first issue appeared in August 1976 and the second following in October of the same year. Issue 3 was released in March 1977 and the last double issue of 4 and 5 in January 1978.
Contributors included Clifford W. Bird, Ken Hahn (Jeet), Jon Inouye, Phillip Klinger, Gordon Linzner (Space and Time), Marcia Martin, Deborah Mary, David McLean, K. W. Raney, Charles R. Saunders (Stardock, Dragonfields), Darrell Schweitzer, David M. Skov, and Eric Vinicoff.
Illustrations were by Gene Day (Dark Fantasy), Mark Gelotte, Gary Kato, and Charles T. Smith.