Black Book Press
From ZineWiki
Jump to navigation
Jump to search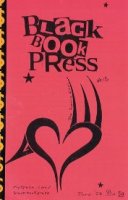 Black Book Press is a compilation poetry zine Edited by Kyle Van Heck of Wilmette, Illinois. It published it's 31st issue in 2007.
BBP published its first Issue in September of 2004. Spanning only 5 pages, the first issue contained poetry, visual artwork, and flyers to help promote the cause. After this introduction, the first few issues remained extremely small and local, each consisting of 5 pages, all the way through Issue 4 which was published in February of 2005. Upon the release of issue 5 in April 2005, Black Book Press switched from full page format to half sized format and became 20 pages in length. From there BBP moved on to issue 6 in September of 2005, and became a monthly publication. Issues 5-8 are half sized with a white paper cover. Issues 9-present are half size and have various colored paper covers, and has held steady at 22 pages per issue publishing about 19 writers each month.
The zine has been carried at Chicago Comics and Quimby's Books in the past, although now most copies are sold through the zine directly by snail mail.
Black Book Press aims to publish poetry with an edge, that you might nor find in other places. Although many contributors have found the zine listed in Poets Market, the zine also gets contributions from people online, and trys to draw writers locally through flyers, posters and stickers.
Recently, A new myspace page has been started in support of a Black Book Press street team. the website link can be found below. There is also a facebook group called Black Book Press Poetry.
Black Book Press currently receives about 60 submissions per month and is looking for: Poetry, Concert and CD reviews, Book Reviews, photography, art, Mail art.
Editor Kyle Van Heck also self-published several small chapbooks of his own work including: An Education in Rebellion, Knife to Neck, Room to Breath, Waiting for A Car Crash, and Battle Hymns for the Comming Storm. This last project was to be the first book in a seix book series that was never completed.
Does not publish: Religious work, racist work, Nature Poetry, Greeting card verse.
Black Book Press disbanded after issue 60 sometime in late 2009 or early 2010.
Van Heck has since moved on to other projects of political nature, most notably visual artwork and collage, commenting on pop-culture and politics.
He can be reached via:
http://www.twitter.com/kylevanheck
http://www.facebook.com/kylevanheck
http://www.artslant.com/global/artists/show/186666-kyle-van-heck
http://www.linkedin.com/pub/kyle-van-heck/26/603/a60
https://www.obsessedartist.com/component/option,com_community/Itemid,126/view,profile/
http://www.behance.net/kylevanheck
External Link
Black Book Press' Myspace Page www.myspace.com/bbpstreetteam