Astral Dimensions
From ZineWiki
Jump to navigation
Jump to search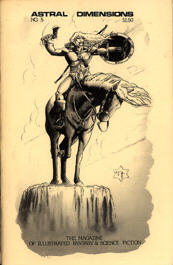 Astral Dimensions was a fanzine edited by Chris Marler and Mark Jacobs.
Astral Dimensions was devoted to speculative and weird fiction, and was published in the 1970s in Staatsburg, New York, U.S.A. The first two issues were released in 1975, with issues 3 and 4 following in 1976, and issues 5 and 6 published in 1977.
Featured were writers Joseph Payne Brennan (Macabre, Essence), Steve Bridge, C.C. Clingan (The Diversifier), Ron Fortier, Ken Hahn (Jeet), Phillip C. Heath, Wayne Hooks, Robert A.W. Lowdnes, David Madison, A.K. Molnar, Gary Robert Muschla, H. Walter Munn, E. Hoffman Price, Wilum Pugmire (Old Bones, Visions of Khroyd'hon), Glenn Rahman, Jessica Amanda Salmonson (The Literary Magazine of Fantasy and Terror), Charles R. Saunders (Stardock, Dragonfields), Stephanie Stearns, and Frances Watson.
Also featured was a reprint from Weird Tales of "The Silver Key" by H. P. Lovecraft.
Poetry was by Joseph Payne Brennan, Brian Lumley, Michael Fantina, and Stephanie Stearns.
Covers were by Ken Raney (Fantasae) (#5), Clifford Bird (#6). Portfolios by Gene Day (Dark Fantasy) were also featured. Included in issue 6 was a pictorial portfolio based on H.P. Lovecraft by artists Clifford Bird, Gene Day, Todd Klein, Allen Koszowski and Stephen Riley.
Letters came from T. Christopher Kelly, Neil Kvern, Andre Norton, Ted Pons, and David Warren.