Another Lo-Fi Xtravaganza
From ZineWiki
Jump to navigation
Jump to search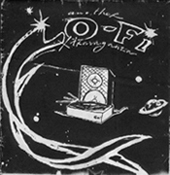 Another Lo-Fi Xtravanza is a zine by Jen Smith.
Published in the 1990's in Washington D.C., U.S.A., issue one is a small, folded one-sheet zine. A cut and paste combination of text and images, the introduction to issue one announces the Lo-Fi Underground, saying "LoFi is Forever" and that there is "Nothin to lose + everything to Do".
Issue one covers activities such as The Embassy Tapes by Tim; Washington DC labels Rodeo Recordings, and MIRA; the bands Cupid Car Club, Scissor Girls, and Slant 6; and the zines Chainsaw, Fantastic Fanzine and Riot Grrrl Press.
Another Lo-Fi Extravaganza originated in part from a cassette tape sleeve Jen Smith made for her band Rastro!
Another Lo-Fi Extravaganza is included in the Sarah Wood Zine Collection at Duke University Library.
See also
External Link