Amor
From ZineWiki
Jump to navigation
Jump to search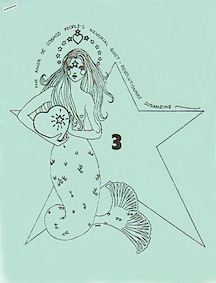 Amor was a science fiction perzine by Susan Wood.
After publishing Energumen in Toronto with Mike Glicksohn, and her own title Aspidistra, Susan moved to Regina, Saskatchewan, and on October 29 of 1973 began her third fanzine called Amor, shortened from its original name of Amor de Cosmos People's Memorial Quiet-Revolutionary Susanzine: A Personalzine. Sometimes Amor functioned as an letter substitute to friends, then became a zine again, depending on the purpose Susan wished to put it to, which is perhaps why she referred to Amor as a "Susanzine" rather than a fanzine. Susan moved again, this time to Vancouver, British Columbia, and continued to publish Amor throughout the 1970's. On Amor, Susan writes in issue 10, "This-is-the-letter-that-grew. Merde alors, did it ever, this time".
Contributions of writing came from Doug Barbour, Michael Carlson, Eli Cohen (Kratophany), Lynne Dollis, and Elizabeth Buchan Kimmerly.
Issue 2.5 contained a reprint of the Charles Burbee article "How To Stop Writing For Fanzines", that had originally appeared in William Rotsler's Masque.
Contributions of artwork came from Terry Austin, Harry Bell (Grimwab), George Barr, Grant Canfield, Freff, William Gibson, Alexis Gilliland, Tim Kirk, Jim Mcleod, Cathryn Miller, Ron Miller, Randy Mohr, Joe Pearson, Bill Rotsler, James Shull, Dan Steffan (Boonfark), with covers by Derek Carter, Cathryn Miller, Randy Mohr, Stu Shiffman (Raffles), and others.
Published excerpts of letters were from F.M. Busby (Cry of the Nameless), David Emerson (Rune), Ursula LeGuin, Jessica Amanda Salmonson (Windhaven), Kristen Stempf, Angus Taylor, and Diane White, among others.
After moving to Vancouver, Susan Wood also co-edited Genre Plat with Allyn Cadogan, William Gibson and John Park.
The last issue of Amor, issue 18, appeared November 1979.