Abrupt Lane Edge
From ZineWiki
Jump to navigation
Jump to search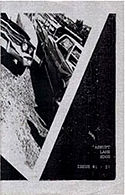 Abrupt Lane Change is a queer punk zine by Christopher Wilde from the U.S.A.
The first issue of this cut and paste, photocopied zine appeared in 1992 from Minneapolis, Minnesota. This issue featured the "Blaspheme Religion" contest, and a special citation for Sinead O'Connor for her appearance on Saturday Night Live, ripping up a photo of the Pope. Also included are detourned letters from various organizations; clippings from newspapers; organizations that may or may not be real, like "Homosexuals Anonymous" and "Riot Drrrks"; and and article on Minneapolis punk including Quincy Punx, Scooby Don't, and Rejects. Also included are reviews of the zines Androzine, Homocore Toronto, Rustbelt, and From the Diane Files.
Issue two features articles on Spew 3, more organizations such as "Horny Housewife Hotline", and "Skinheads and Punks Against Homophobia"; The March on Washington; pieces on Robert Smith and The Sugarcubes, and fiction. Also included are reviews of recordings by Conspiracy, Dink, Scooby Don't, a live show by 7 Year Bitch, the video Gender Troublemakers, and the zines Fembot, Fuh Cole, Gender Trash from Hell, Holy Titclamps, In Your Face, Karma Label, Loring Punk, Outpunk, PC Casualties, and Persona.
Issue three is the editor's first issue from Ann Arbor, Michigan, and features articles on Kurt Cobain; comic art by Anonymous Boy; a recounting of going to the editor's last Minneapolis Pride event with Pat (editor of Loring Punk, Not Your Bastard and The nighttime, sniffling, sneezing, coughing, aching, stuffy-head, fever, so you can rest 'zine), who went with an upside down U.S. flag with dollar symbols, anarchy symbols and "Fuck Amerikkka" written on it, and the trouble that ensued; pieces on Dumpster Diving; "Good Punks Gone Bad"; the Mundane Existence House; artist Aerik; Bob Mould; and poetry. Also included are reviews of the zines Dizzy by Jeff Junker, Easily Grossed Out, and Quarter Inch Squares.
External Link