28 Pages Lovingly Bound with Twine
From ZineWiki
Jump to navigation
Jump to search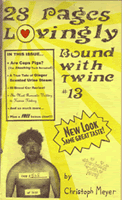 28 Pages Lovingly Bound with Twine is a perzine written by Christoph Meyer from Danville, OH.
Each issue of 28 Pages is hole-punched and bound with various types of twine, keeping true to its title. Issue #9 (The Dental Issue) was bound with dental floss.
28 Pages is a personal zine dedicated to the experiences and imagination of Christoph, a stay-at-home father, writer and artist. He writes stories about his day-to-day life, his son, Herbie, his wife, Lisa, and rural life. He also includes several letters (and responses) to companies that have either disappointed or delighted him.
Issues 1-12 were printed in 8.5 inch by 5.5 inch size, with issue 13 changing to a comic book size, complete with plastic sleeve. The first issue was released in late 2001. There have been fifteen issues published so far.
28 Pages Bound with Twine was featured in the Zine Scrapbook.
28 Pages was selected as the winner of the "General Excellence: Zines" category in the 2006 Utne Independent Press Awards by the editors of Utne Reader. Danielle Maestretti (the Utne Reader librarian) praised the zine: "Twine rises above many other zines because, in addition to its energetic craftiness, the writing is excellent and the stories are engaging."
This zine is included in the West Coast Zine Collection at San Diego State University.
External Links