Pandora's Box (U.S.A.)
From ZineWiki
Jump to navigation
Jump to search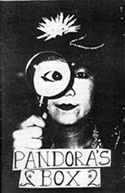 Pandora's Box is a zine by Sam Culprit from West Hollywood, California, U.S.A.
A couple of issues of Pandora's Box were released in the late 1990's.
Issue two appears in the form of a travel zine, describing Culprit's adventures in New York City. She covers record and clothes shops, but her special focus is on the art world, covering Cyndi Sherman and Elizabeth Peyton exhibitions, Russian film posters and documentary photos from Pol Pot's Cambodia at the MOMA; an exhibition about Candy Darling; seeing the Chelsea Hotel; visiting the Hudson Valley; attending a Keith Haring opening at the Whitney; going to restaurants; being on cable TV.
Elsewhere in the zine, Culprit writes essays about media and how Americans are so steeped in typical sit-com formula plot lines, that it has begun to affect the way reality is looked at.
Other topics explored include the importance of art; a photo spread of "The Flappers", including Josephine Baker, Theda Bara, Clara Bow, Louise Brooks, Lil Hardin-Armstrong, Bessie Smith, Anita Loos and Dorothy Parker, and short expositions on their lives and importance; the SF/Bay Area Girl Convention of 1997; dealing with female musicians on the cover of corporate magazines; and reviews of movies, books such as Zines!, and G.B. Jones, and zines such as Tennis and Violins, Bamboo Girl and Chinese, Japanese, Indian Chief. The zine ends with a reprint of the text from the Bratmobile single "I Love You, You Little Crocodile".